Embryo transfer.
Use it to build your
PEDIGREE AUSTRALIAN LOWLINE HERD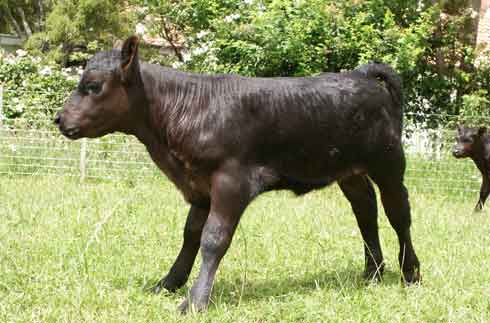 Here's Casablanca Sahara, a bright, healthy, active and valuable calf,shown here at the age of one month. (She is now four years old.) Sahara was the result of surgical embryo transfer, the first done in New Zealand using an Australian Lowline embryo. Her dam was the well known Australian cow, Mugga Piaf, and her sire, Avonsleigh Atlas, a very superior Australian bull who showed his worth against all comers of all breeds as Interbreeds Champion and Supreme Champion at the Canberra Royal Show.
Surgical embryo transfer, in which a hole is cut in the side of the surrogate (under local anaesthesia) and the embryo placed directly into the most favoured horn of the uterus, produces an average 90% confirmed pregnancies as compared with vaginal transfer which is successful about 60% of the time. Our record is 100% success, using John Crawford of
Premier Genetics
, one of the pioneers of surgical embryo transfer. The operations appeared to be painless and the incisions healed rapidly. Embryo transfer provides a viable alternative for those who want pedigree stock, are prepared to put in the waiting time, and who are looking for a lower total cost of ownership.
It is important to understand the possibilities of embryo transfer because, with Australian Lowlines, it is not possible to "breed up" from crossbred to pedigree stock. The reason is that Lowlines are genetically very
"clean"
compared with other small cattle. For example, they do not have the Achondroplasia or Chondrodysplasia
dwarfism genes
with their risk of deformity or abortion.
ALCA
, the Australian Lowline Cattle Association, is not prepared to compromise the breed by allowing genetic degeneration. To be allowed in the studbook, calves must have 100% Lowline ancestry verified by DNA matching to their parents. If you are interested in embryo transfer as a way of starting a Lowline herd, we are happy to advise you, including helping you to source suitable embryos.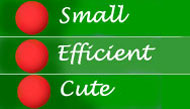 Casablanca Lowline Stud, based at Whangaehu near Wanganui, New Zealand(previously at Kumeu, Auckland) welcomes your contact about Australian Lowline Cattle.
You can ring us on New Zealand 06 342 6670 or
Email us
 or join our mailing list to receive current Australian Lowline news.
Form Object
Which would you prefer for your farm? Small, easily handled cattle that are easy on your fences?
Or the most beef to the hectare?
Australian Lowlines provide both benefits and are probably the only breed that can. Lowlines are small Angus cattle which were developed by NSW Department of Agriculture line breeding research. Australian Lowline bulls measure about 110 cm at the hip and Lowline cows about 100cm. The cows are very long-lived, producing calves for 12 to 20 years and the bulls are renowned for their fertility. Australian Lowlines are an exceptional beef breed, producing up to 40% more dressed out beef to the hectare than other breeds. Australian Lowlines. Bred for better beef.
Judy and David Sainsbury, Casablanca Lowline Stud, 16 Haunui Rd, Whangaehu, Wanganui, New Zealand.
Telephone:(New Zealand)06 342 6670. Mobile:0211433204. Email:lowline@casablanca.co.nz